Available Adult Bengal Cats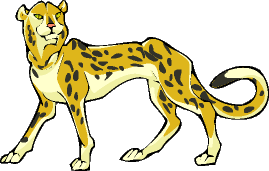 The Adult Bengal Cats, that we have available for adoption, are very special cats who are retired from our breeding program. My breeding cats are my very much loved and very spoiled pets as well. They are used to lots of daily attention, affection, good quality food, fresh water, and having all their needs catered to in a clean, harmonious, healthy, happy environment.
My goal is that my retired adult cats go to a forever home where they can receive a ton of love and attention, be pampered like a prince or princess, and can live out their lives being properly spoiled and appreciated. I don't want them to ever have to be rehomed again.
Please be certain that you can make a life time commitment to these cats. Ask not how the cat can serve you, but how you can serve the cat! :)
Our cats are used to a stable and quiet home. They have been raised around our larger dog. They are INDOOR ONLY cats - no exceptions.
Adoption fees for most of our retired adults are very minimal, basically to cover the cat's spay or neuter and as an indication of the Buyer's commitment and good intent for the cat.
Please Read This List Before Sending an Inquiry

The IDEAL HOMES for a successful placement of one of our retired Bengal cats:
Stable Home - Chances are that you won't be moving for many years.

Harmonious Home - Fights or yelling is absent from the home or extremely rare.

Only Cat - Most of retired adult Bengals will do best as an only cat. It is always hard to predict if two adult cats will get along or not. I prefer to not take that chance with my cats. Adult cats typically do get along if a young kitten is introduced to the home. Some of my adult cats may accept a low key friendly dog.

A Homebody - While you may need to go to work everyday, I prefer a person who would be home after work, rather than always on the go. We all need vacations, but if you are traveling a lot, that probably won't be ideal for one of our cats.

Financially Able - to buy high quality food, cat trees and/or cat condos, cat toys, vet visits, if ever needed.

Willing to a Scoop Litter Box Every Day - I notice that every once in a while people want a cat, but decide they don't want to scoop the litter box anymore. Be honest about how you feel about the every day chore of scooping boxes. It really only takes 60 seconds or less to scoop a box!

Clean and Healthy Environment - Hopefully this is self explanatory.

No Declawing - In the old days, people did this. It is no longer acceptable practice.

No Feral or Neighbor Cats - frequenting your yard. This can trigger territorial anxiety in cats.

Open to Advice - Ability to listen to and/or read advice and willingness to follow expert advice, should any issues arise.

Empty Nesters or Child Free - would probably be best for my adult cats, who have not been raised around energetic children. Kittens are a different story. Some kids are quiet and super mellow. Some of my retired cats may be OK with that.

Patient and Tolerant - Bengal cats are probably going to climb on anything that can be climbed on! Most likely, they will jump on your kitchen counter, on your coffee table, on your mantle, on the furniture. They may knock something over. Is this going to be OK with you? Also, an adult cat for the most part has its personality. I will be honest with you about the cat's personality. If you can't accept the cat just as it is, then please pass on the cat. However, I am hopeful, that all those great qualities the cat has, will really bloom and blossom even more once the cat has the opportunity to be an only cat receiving all the love and attention.

Indoor Only Cat - Indoor cats live longer lives. Outdoor cats have much shorter lives. Outdoor cats disappear, get stolen, eaten by predators, run over by cars, pick up diseases, pick up fleas, get in fights and that creates vet bills, maybe even death. In addition, outdoor cats are pretty devastating to wildlife.
Updated April 7, 2017

Thank you for reading all of the above very carefully and thoroughly!
Now lets get to the Available Bengal Cats!

Adopted ~ No Longer Available
EnchantedTails Breaking Dawn
 
DOB 04-17-09
Dam: Stonehenge Belle Starr
Sire: CH EnchantedTails New Millennium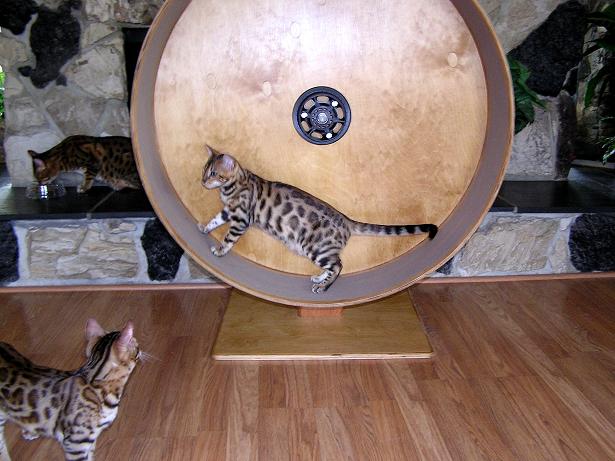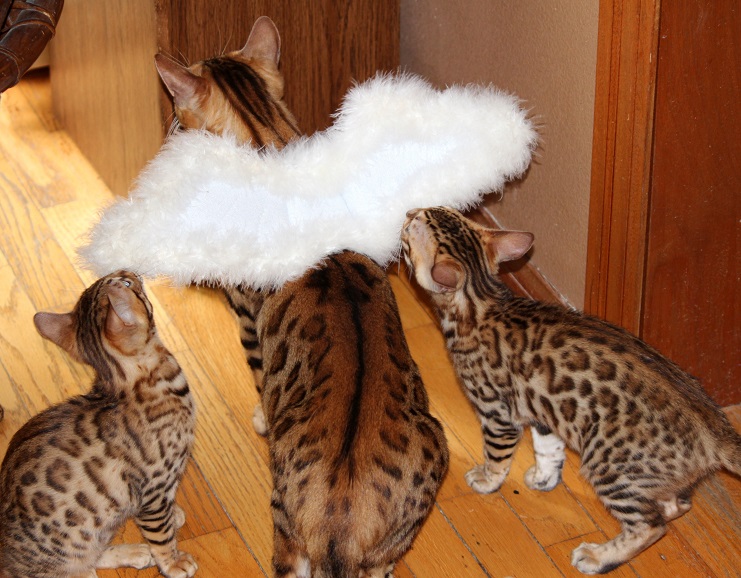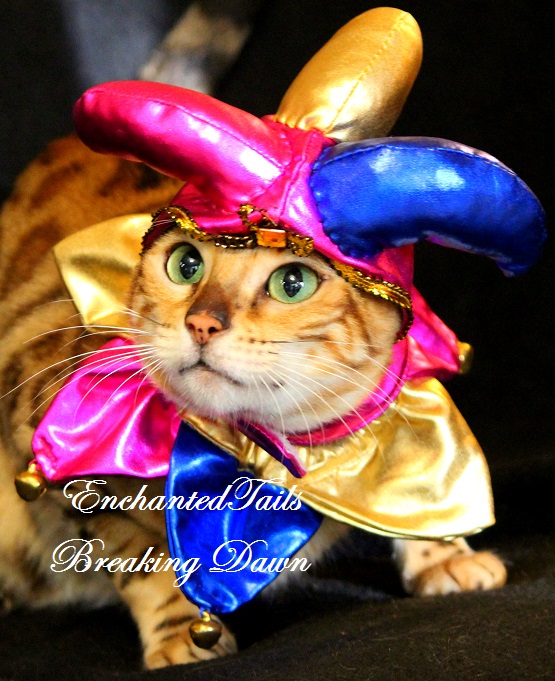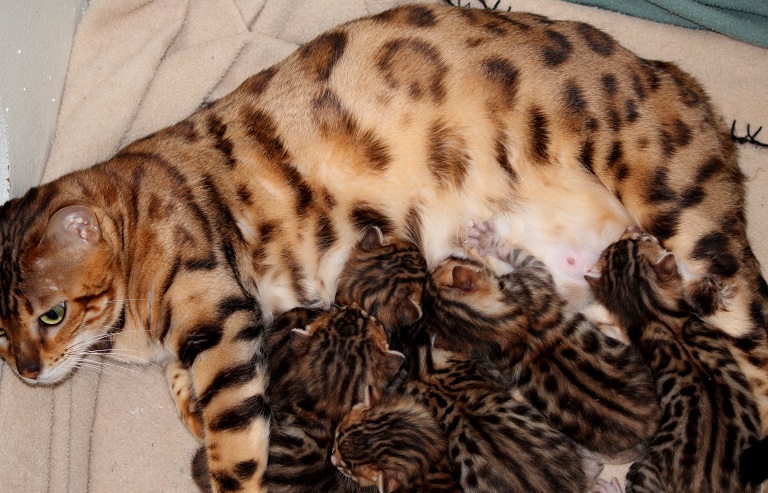 Breaking Dawn is an amazing cat! How I love her, and because I love her so, I am excited for her to have a home to herself, where she can get all the attention and lounge wherever she pleases!
Dawn is the biggest female Bengal that I have had. While she definitely loves to run and play, she is a tad more low key than some Bengals. You can see from the pictures of her in the costumes, she is pretty easy going and super pleasant to have around.
She is not particularly into having a cat buddy. Could be that someday you could introduce her to a kitten companion. (I do not recommend getting an adult cat to go with an existing adult cat.)
She had the Chem 10 bloodtest before her spay, and Dawn is in great health, as she has been her whole life.
Dawn does like to put a foot into her water bowl when she drinks. Her new person would need to be willing to change out her water at least twice a day in order to keep her water clean. Also, you would need to be OK with a few wet kitty tracks near the water bowl. I am wondering if a pet water fountain may fix her desire to put a foot in the water dish? Seems like sometimes the cats just like to feel where the water level is before drinking.
Seems like all cats adore wet food, but Dawn really loves wet food! While wet food doesn't need to be a daily thing, I would hope her new person would indulge her at least 4 or 5 days of the week with wet food. (Recommended brand is on my Cat Care Recommendations handout.)
Dawn also particularly enjoys the Tuna flavored Greenies every now and then.
She can be quick and still tries to slip outside on occassion. You would need to be alert for this. If she did slip past you, the best way to catch her is to bring out a can of cat food and start to open it! Then of course, pick her up, bring her inside, and give her the food :)
Just trying to cover all bases, so she can be matched up with the very best home!
If interested in giving Breaking Dawn an awesome home, please email. Since my computer time is so limited, preference will be given to those who include a little about themselves and the kind of home they would provide. Dawn's adoption fee is $250. This basically covers her spay, health exam, vaccine, deworming, and Chem 10 blood test.
Contact Holly Erickson
St. Helens, Oregon
Columbia County

We are near Portland, OR and
Longview and Vancouver, WA

(503) 396-5448

or

EnchantedTails@aol.com

Copyright © 2000 - 2015 Holly Erickson.
All rights reserved.
04/07/2017