Checklist For Purchasing a Cat Or Kitten
From EnchantedTails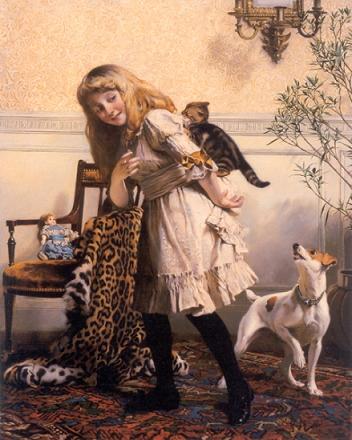 By Charles Burton Barber (1845 - 1894)
Schedule an appointment to meet the cat or kittens.
Reserve your kitten with a deposit to hold the kitten until it is ready to go home with you at about 11 to 12 weeks of age.
In the meantime.......
Purchase food.
Note: You will probably want to feed just one brand of dry food. I would go with Simply Nourish for a kitten. Go with Simply Nourish Adult (chicken variety), if you adopted an adult cat. Wellness Kitten is a good food also, but the bags are too small for me with all my cats and kittens!
I mix all these dry foods together:
Simply Nourish Kitten (PetsMart and maybe at PetCo)
Purina One Kitten (PetsMart, PetCo, and Walmart)
Nature's Variety Instinct or Simply Nourish Kitten No Grain Food (Available at PetsMart and maybe at PetCo)



Wet Food:
Fancy Feast Liver and Chicken (classic) or Fancy Feast Gourmet Chicken (classic)
ProPlan Adult Chicken Entree or ProPlan Kitten or Adult Chicken and Liver. (PetsMart or PetCo)
Raw strips of turkey and/or beef (optional)

Purchase cat litter:
Purchase toys/supplies:
Little toy mice

Feather teaser

Dragonfly teaser (available online)

Cat tree/scratching post

Nail trimmers

Cat bed (or kitty can just sleep on the couch, your bed, etc.)

Water bowl (Stainless steel preferably, not plastic)

Food bowl (Stainless steel preferably, not plastic)

Cat carrier to transport kitty home and for any visits to the vet.
Place any trinkets or breakable items out of reach, until you know the activity level of your kitten.
Remove any poisonous house plants that may be accessible to the kitten.
We will communicate at when the kitten is about 9 weeks old to determine when the kitten is ready to go to its new home. We want kitty's transition to his/her new home to go as smoothly as possible. Sending the kitten home before it is developmentally ready will result in baby kitty crying, which will be no fun for kitty, nor for you. We need to determine that kitty is fully weaned and feeling independent enough to start his/her new adventure with you.
Bring your carrier when you come to pick kitty up. If you prefer to pay the balance for the kitten/cat by check, then that should be sent prior to picking up the kitten to allow time to clear the bank (about 2 weeks in advance.) Otherwise, we accept cash only upon pick up.
Kittens are dewormed and vaccinated for Panleukopenia, Rhinotracheitis, and Calicivirus typically around nine weeks of age. They will be due for their second vaccination four weeks later, typically at 13 weeks. Kittens need only two vaccinations, if the first one is given after 8 weeks old.
Do not overvaccinate! The recommendation is for Rabies and Feline Leukemia vaccines only if the cat goes outdoors, which your kitty should not. Life expectancy for outdoor cats is 3 years. Plus, our Sales Contract states that the cat/kitten must be kept indoors only. Do not let your vet give the FIP vaccination. See our Sales Contract for reference.
First year boosters are recommended, followed by every three years after that.
This is just a brief checklist to help you get ready to bring home your new kitten/cat. Please carefully read our Cat Care (http://enchanted-tails.com/CatCare.htm) instructions as well.
If any questions arise, please feel free to contact me.
Holly Erickson
St. Helens, Oregon
Columbia County

We are near Portland, OR and
Longview and Vancouver, WA

(503) 396-5448
Copyright © 2000 - 2015 Holly Erickson.
All rights reserved.