EnchantedTails

Lillie Belle

(and Thistledown)

Born July 28, 2005

Dam: Miss TinkerBelle

Sire: Stonehenge Draco of EnchantedTails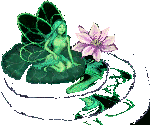 Lillie Belle gets her name from a story in Flower Fables, written in 1854 by Louisa May Alcott, called "Lily-Bell and Thistledown". She was just going to be called Lillie Belle .......Kind, compassionate, and loving, wherever her gentle face was seen, joy and gratitude were found; no suffering flower or insect, that did not love and bless the kindly Fairy; and thus all Elf-Land looked upon her as a friend. Nor did this make her vain and heedless of others; she humbly dwelt among them, seeking to do all the good she might. However, our little Lillie Belle has a mischievous side to her, and that's where Thistledown come in, the trouble making elf! Lillie Belle is an exceptionally intelligent cat like her mother. We like her strong chin, rounded ears, puffy whisker pads, structure and balance, as well as a few donut rosettes thrown into the package. Lillie Belle is a joy to have around. If she does find some trouble to get into, your heart melts the next minute as she sweetly snuggles on your lap.
Dam tested HCM normal at 4 years old. Sire tested HCM normal at 1 year old.

Interesting effect on the eyes with the flash!
Lillie Belle is cuddled here with my pet, Peter Pan.


Excerpt from Lily-Bell and Thistlethorn,
by Louisa May Alcott

The Morning Song of the Bees
"Awake! awake! for the earliest gleam
Of golden sunlight shines
On the rippling waves, that brightly flow
Beneath the flowering vines.
Awake! awake! for the low, sweet chant
Of the wild-birds' morning hymn
Comes floating by on the fragrant air,
Through the forest cool and dim;
Then spread each wing,
And work, and sing,
Through the long, bright sunny hours;
O'er the pleasant earth
We journey forth,
For a day among the flowers.


4 1/2 months old
"Awake! awake! for the summer wind
Hath bidden the blossoms unclose,
Hath opened the violet's soft blue eye,
And wakened the sleeping rose.
And lightly they wave on their slender stems
Fragrant, and fresh, and fair,
Waiting for us, as we singing come
To gather our honey-dew there.
Then spread each wing,
And work, and sing,
Through the long, bright sunny hours;
O'er the pleasant earth
We journey forth,
For a day among the flowers!"
8 months old
One day, as she (Lily-Bell) was wandering
through a lonely dell, she heard a faint,
low sound of music, and soon a
distant voice mournfully singing,--
"Bright shines the summer sun,
Soft is the summer air;
Gayly the wood-birds sing,
Flowers are blooming fair.

"But, deep in the dark, cold rock,
Sadly I dwell,
Longing for thee, dear friend,
Lily-Bell! Lily-Bell!"
8 months old

"Thistle, dear Thistle, where are you?" joyfully
cried Lily-Bell, as she flew from rock to rock.
"Through sunlight and summer air
I have sought for thee long,
Guided by birds and flowers,
And now by thy song.

"Thistledown! Thistledown!
O'er hill and dell
Hither to comfort thee
Comes Lily-Bell."

"You have learned the beauty of a gentle,
kindly heart, dear Thistle; and
you are now worthy to become the friend
of her for whom you have done so much.
Place the crown upon her head, for she is
Queen of all the Forest Fairies now."
...loud rang the flowers,
and joyously sang the birds,
while all the Forest Fairies cried,
with silvery voices,
"Lily-Bell and Thistledown!
Long live our King and Queen!"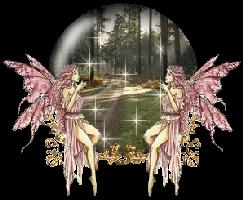 See The Enchanted Tails Magical Kingdom!!!

Use the pull down menu below.













Contact Holly Erickson
La Habra Heights, California
(562) 691-4702
or
EnchantedTails@aol.com

All photographs on this page Copyright © 2005 Holly Erickson.
All rights reserved.
This page last updated 10/09/09