Born December 11, 2007

Sire: RW SGC Millwood Megabyte

WOW!!! Great News!!!

Newman received BEST Allbreed Kitten
at the last two shows entered!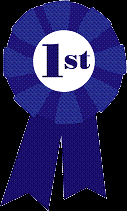 He also received:
2nd Best, 3rd Best, and 5th Best!


I am quite in love with New Millennium! This boy seems to have it all, from his colorful rosettes, clear slick coat, and contrast, to his wonderful face and profile. Newman has a long sleek body, spots on his legs, and no ribbars. Newman's personality could not be sweeter! What a loving and easy going boy.
I am most grateful to Jean Mill of Millwood Bengals for allowing me to breed Aurora to her very special Megabyte. When I went to Jean, I had no idea that plans were underway for her retirement. I feel especially fortunate to have been able to use Megabyte before he left for Canada.
Newman's name, New Millennium, seemed appropriate in a couple ways. With Jean's retirement, Newman is my New Millwood boy. His name also signals a new era for EnchantedTails Bengal Cats.
New Millennium tested
HCM normal at 6 months old and also at 1 year old.