EnchantedTails
Vasilisa the Beautiful
Our F3 Queen
By Ivan Bilbin
Dam: EnchantedTails Morgan Le Fay
Sire: Stonehenge Draco of EnchantedTails

Born: September 8, 2005

Vasilisa is soooo special! I really am in love with everything about her. The first thing that catches my eye is her overall build. She has a lean, yet well muscled appearance. The next thing that catches my attention is her eyes. They have a very wild appearance about them. Although they are gold, at first appearance, they look like the brown eyes of a wild cat. Her face is like that of a lioness, the profile similar to an Asian Leopard Cat. Her light background color is my favorite color on a cat. So far, she has a white tummy like her mom, EnchantedTails Morgan Le Fay. Ultimately what I love about Vasilisa is her sweet personality. She loves sitting in my lap and cuddling with me in bed at night.

Vasilisa gets her name from the Russian fairy tale called Vasilisa the Beautiful. Her Russian name honors her descent from the Asian Leopard Cat subspecies, the Amur Leopard Cat. She is an F3.

Sire and Dam have tested HCM normal.
Pictured at 14 weeks
Pictured at 4 months
Pictured at 5 months
Pictured at 5 months with her boyfriend, Illuminati.
Click here to view Vasilisa's pedigree.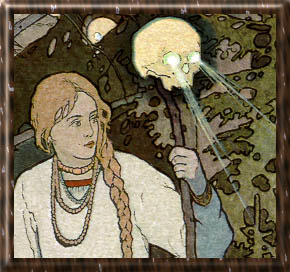 See The Enchanted Tails Magical Kingdom!!!
Use the pull down menu below.
Contact Holly Erickson
La Habra Heights, California
Near Los Angeles and Orange County
(562) 691-4702
or

Copyright © 2005 Holly Erickson.
All rights reserved.
Last updated 10/09/09
Star background and star bullet from