Stonehenge Belle Starr

of
EnchantedTails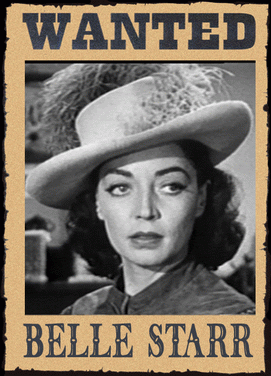 Born February 23, 2007

Dam: Stonehenge Silver Stardust

Sire: Cedarranch Iron Steel of Stonehenge

Belle Starr tested
HCM normal at two and a half years old.
I fell in love with Belle Starr as a young kitten while visiting Sydney of Stonehenge Bengals in Tennessee. Her superb profile is not surprising with Outstanding Sire RW SGC Stonehenge Wurthawate of SnoPride as her grandsire and F4 Junglebook Silverella of Stonehenge as her granddam. Belle has haigh contrast, a super soft coat, and very intriguing jet black markings.
Belle Starr is a very clever and smart cat! She sees and thinks of things to do that no other cat has considered! She is a lover too, full of purrs and cuddles.
Thank you so much, Sydney, for beautiful Belle Starr!

One of the most infamous female bandits in the Old West is Belle Starr. Known as The Bandit Queen, Belle Starr is a woman who made a name for herself in a man's world. It was unusual for a woman to earn the respect of the men of her time, but Belle Starr held her own.
"Of all the women of the Cleopatra type, since the days of the Egyptian queen herself, the universe has produced none more remarkable than Bella Starr, the Bandit Queen...She was more amorous than Anthony's mistress, more relentless than Pharaoh's daughter, and braver than Joan of Arc...... "
The National Police Gazette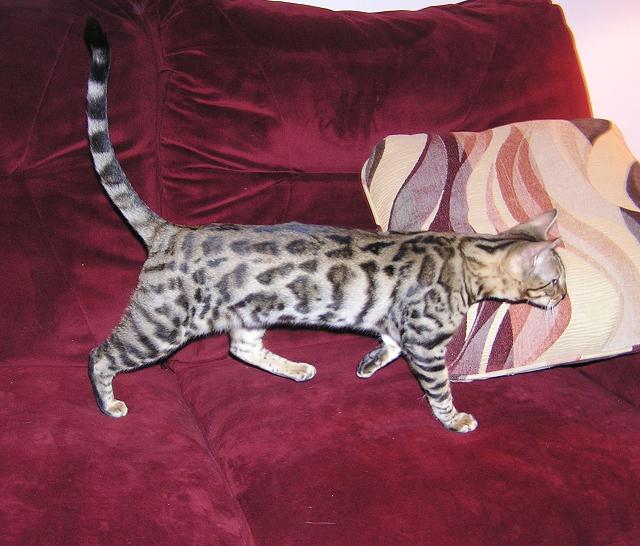 6 months old
Belle Starr was born Myra Belle Shirley on February 5, 1848, in Carthage, Missouri. Myra Belle lived the life of a spoiled, rich girl, brought up with the manners and customs of the social elite. She was a bright student had a good education, attending the Carthage Female Academy, where in addition to the basics, she was taught music and classical languages. She developed quite a talent for playing the piano. She also loved the outdoors and became quite an accomplished horsewoman and gunslinger.
Belle Starr had a small, trim, attractive figure and could attract and control men with her feminine wiles. Her pictures show her wearing the latest fashions in women's dresses, with broad brimmed hats, and boots. She also had a quirt attached to her wrist and two six guns buckled on her waist, which tended to make her stand out in a crowd.
15 weeks old
At age 16, Belle Shirley became a spy for the Quantrill Band, a band of outlaws containing the Jameses, the Youngers, the Reeds, and the Daltons.

Belle would visit neighboring ranches after which saddles, bridles, livestock, or other items disappeared. People believed that she scouted surrounding ranches for items of value and then had her band steal them.

She was a connoisseur of fine horses, which caused her to get into trouble with the authorities on several occasions. Legends of her banditry include a $7,000 robbery of a saloon at Fort Dodge, Kansas; a Texas bank robbery netting $30,000; and a Creek Indian robbery also estimated at $30,000.

Belle Starr was only ever convicted once and that was for horse theft.
For this, she served nine months of a one year jail sentence, and was ironically released early for good behavior.

6 months old

"After a more adventurous life than generally falls to the lot of woman, I settled permanently in the Indian Territory, selecting a place of picturesque beauty on the Canadian River. There, far from society, I hoped to pass the remainder of my life in peace and quietude. So long had I been estranged from the society of women, whom I thoroughly detest, that I thought I would find it irksome to live in their midst. So, I selected a place that but few have ever had the gratification of gossiping around.
5 months old

Belle's husbands and consorts were men notorious for their crimes. After marrying the outlaw Sam Starr, her home was said to be a refuge to outlaws and renegades. Belle is quoted as saying, "I am a friend to any brave and gallant outlaw."

"Jesse James first came in and remained several weeks. He was unknown to my husband, who never knew until long afterward, that our home had been honored by Jesse's presence. I introduced Jesse as one Mr. Williams from Texas. ...... The best people in the country are my friends. I have considerable ignorance to cope with, consequently, my troubles originate mostly in that quarter. Surrounded by a low down class of shoddy whites, who have made the Indian country their home to evade paying tax on their dogs, and, who I will not permit to hunt on my premises, I am the constant theme of their slanderous tongues. In all the world, there is no woman more peaceably inclined than I."
15 weeks old
Allegedly shot by her brother,
Belle was buried beneath a fancy tombstone, with a poem that reads:
"Shed not for the bitter tear,
Nor give the heart to vain regret.
'Tis but the casket that lies here,
The gem that filled it sparkles yet."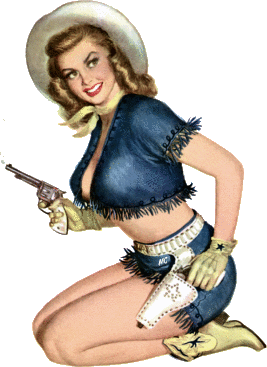 Click here to view Belle Starr's Pedigree.


See The Enchanted Tails Magical Kingdom!!!

Use the pull down menu below.













Contact Holly Erickson
St. Helens, Oregon
Columbia County

We are near Portland, OR and Vancouver, WA

(503) 396-5448

or

EnchantedTails@aol.com

All photographs on this page Copyright © 2007 - 2010 Holly Erickson.
All rights reserved.
This page last updated 01/02/10